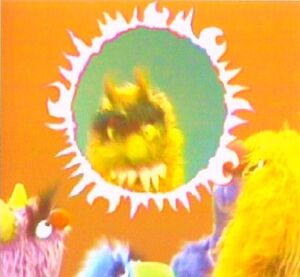 "Frazzle" was first performed by Frazzle and the Frazzletones on Sesame Street in 1975. The Frazzletones sing about Frazzle's emotions, which Frazzle himself always expresses in an indecipherable snarl that sounds the same regardless of whether he's happy, sad, or angry.
Later airings of the song featured new graphics, with "rip lines" appearing around the circles to make it appear as the monsters are bursting through the background.
Releases
Audio
Video (original version)
Video (new version)
Online
Ad blocker interference detected!
Wikia is a free-to-use site that makes money from advertising. We have a modified experience for viewers using ad blockers

Wikia is not accessible if you've made further modifications. Remove the custom ad blocker rule(s) and the page will load as expected.